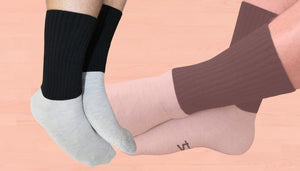 Dry Energy Socks
---
Why DRY, Why ENERGY?
DRY from DriRelease® because the socks pull moisture away from skin to keep you dry and comfortable.
ENERGY from Celliant® because the socks recycle and convert radiant body heat into something that gives the body a measurable boost – infrared energy.
Dry Energy Socks for Healthy Feet
These infrared socks are designed for people who have circulation problems, diabetes, neuropathy, Raynaud's syndrome, arthritis, any discomfort in their feet and legs due to a health condition or anyone who prefers a comfortable, warm non-binding sock.  Infrared Dry Energy Socks are made from premium materials for the finest fit and comfort. 
DRY ENERGY® = Celliant® + Dri-Release®/FreshGuard®
The combination of Celliant, with its ability to break apart water molecules and energy enhancing properties and, Dri-Release® with FreshGuard®, pulling moisture to the surface, creates a superior moisture management and performance system.
Additional information about our SOCKS TECHNOLOGY can be found at www.Celliant.com and www.DriRelease.com
---