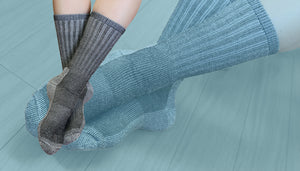 Wool Socks
---
Merino Wool Socks – Technical Socks for General Purpose
Merino Wool Socks have great cushioning to keep your feet warm, comfortable and dry. It is the best choice not only for cold weather, winter months but also for summer months to regulate body temperature.
Our Merino Wool Socks construction features support zones in the ankle and over the Achilles and instep to keep the sock in place, sculpted cushioning to maximize fit and comfort, and a breathable forefoot zone for improved ventilation.
The main benefits of wearing wool socks are:
Great insulator. When it's cold out your feet will be toasty and warm in your wool socks.
Wool can absorb a high amount of moisture — much more than cotton. Wool can actually hold a third of its weight in moisture before it even starts to feel "wet."
Wool keeps its insulating properties while wet,which is perfect for sweaty feet.
Wool fibers naturally have anti-bacterial properties and are, therefore, odor resistant....
Use Merino Wool Socks for hiking, walking, camping, hunting, phishing, skiing, trekking, and more daily activities.
---