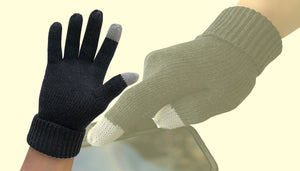 Merino Wool Gloves
---
A Complete Hand Coverage - Soft, Warm & Touchscreen Friendly
Merino Wool Gloves are made with luxuriously soft 100% merino wool. Our collection of wool gloves for men and women is recommended for alleviating the symptoms of cold hands. The gloves are safe for Raynaud's sufferers, sensitive hands, or anyone who prefers "to wrap" their hands in a fine merino glove itch free. An extra coverage at the cuff insulates your sensitive wrist area. Seamless design for men's hands and women's hands.
Merino wool is one of the warmest natural material, therefore wool gloves are a good option for people begin experiencing symptoms of poor circulation. Due to unique properties of wool it's called as "Natures Miracle".
THE POWER OF MERINO WOOL
Ultimate comfort
Breathable and hypoallergenic
Increased microcirculation
Temperature regulation
Sustainable and lasting
Our merino wool gloves are touchscreen friendly, so you can operate a smartphone or tablet without taking your gloves off. Wear these gloves while walking, relaxing, hiking, running and more. Choose Natural from Nature!
---