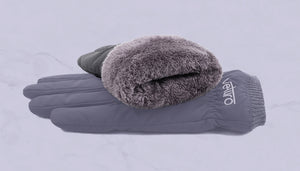 Thermal Gloves
---
Thermal gloves are the warmest type of glove because they typically have an insulation inside with an outer shell built to protect your hands from cold. Soft plush fleece generates warm without weight and smooth outer shell is windproof and water resistant.
These tech-friendly gloves are perfect for men and women who still like to stay connected while enjoying the great outdoors. Durable and easy to put on, our collection of thermal gloves provides the hand health benefits you need every day.
Safe for Raynaud's suffers or for anyone who experiences poor circulation, cold hands, these gloves will keep you warm in normal cold conditions, wicks away the moisture and provide protection against wind and moisture. 
Wrap your hands in a pair of these gloves — for both men and women!
One of the main benefits by wearing thermal gloves is to optimize your hand thermal comfort.
---