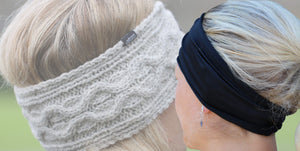 Scarves & Headwear
---
Scarves & Headwear Technologies Improve Recovery and Overall Health
Therapeutic Scarves and Headwear provide warmth to the neck/head where most needed. They can be draped around the shoulders or can be pulled up to cover the face and the head for protection against cold. Designed offer a super soft comfort to deliver the benefits of far infrared technology.
Made from a fabric that can give you your own personal climate-control system
Our collection of scarves and headbands are made from circulation enhancing elements – ceramic nano-particles/infrared which are well known having many benefits on our body such as increasing circulation, increasing tissue oxygen levels, aiding pain relief, increasing/improving strength, enhancing/increasing performance and faster recovery.
Beanie hat, as our recently item added to the collection, is made from 100% natural merino wool to offer comfort, breathability and luxurious softness. Merino wool is one of the warmest natural material and a high-performance gift from nature.
All these unique scarves and headwear provide warmth and performance through a combination of infrared, merino wool and temperature regulating technology.
---